SORRY, NO PEANUTS
How I got Into The Airline Business

---
For the early part of my flying days, I was in the computer business selling Macintosh peripherals to the wholesale and education markets. My flying was restricted to recreational jaunts, $100 dollar hamburgers, and that sort of weekend and after-work fun. I got all sorts of use from myplanes, no doubt about that! Indeed, my job in the computer business, "Driving a desk" as I used to say, was getting stale fast and I was looking for a new venture to tackle.
"Mid-Straits"

Peter Speck, publisher of the North-Shore News newspaper in North Vancouver, BC, and proprietor of gorgeousClam Bay Farm on Pender Island, BC, was a frequent traveller with Pacific Spirit Air. He was also an avid painter on the side. During a trip in 1999, he snapped some pictures in the cockpit of Beaver C-FICK half way between Silva Bay, Gabriola Island, and Vancouver Airport's float base. Using those pictures he painted this rendition of the picture and presented it to me. It is framed and hangs on my living room wall.
In a quirky twist of fate and timing, I received a phone call in January 1997 from the owner of a small floatplane operation in the BC Gulf Islands. As I kept my Cessna 180 at YVR's float base and could often be found hanging around, I had come to know all the local operators on a first name basis; the float business in Vancouver is a small world.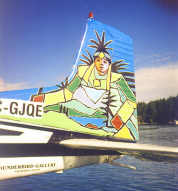 The funky tail of our first 185.
The company's previous owner (and owner of the 185) had this painted by a Saltspring Island artist. Though not exactly pretty, it sure was memorable!
"My airline is for sale," he announced, "Let's make a deal." I had no intention of buying his airline, and in fact, up to this point I had never even thought about the aviation business as a possible career choice for myself. Owning an airline...the idea was far too preposterous! But, I decided to be polite and humour him so I flew down to Saltspring Island and heard his sales pitch. Besides, it was a good excuse to go flying. He was a fantastic salesman and 48 hours later I was the proud new owner of an airline.
The next three years of my life were handily consumed by this new business. Aviation wasn't like my previous business; it was a 24-hours-a-day venture. And it didn't stop there. The airline had started with a only a single Cessna 185 which was leased from the company's previous owner -- it was part of the purchase deal. I also leased my own Cessna 180 to the company, effectively doubling our fleet size and passenger capacity overnight. However, as market share grew, I realized I needed larger aircraft. I searched for quite some time until I came across a good DHC-2 Beaver. After making purchase arrangements, I set up a small leasing company to take advantage of various tax benefits and leased the Beaver, my fourth plane at the time, back to my airline.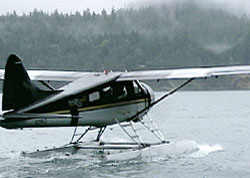 In the years that followed, several significant accomplishments took place. I was nominated three times for 'Entrepreneur of the Year'; twice by Ernst & Young and once by Business In Vancouver newspaper. The Globe and Mail, YVR Skytalk, and BCIT Update publications ran articles about me, and Canadian TV show 'Wings Over Canada' showcased Pacific Spirit Air in one of their first ever episodes (see the ARTICLES section). To keep up with continuing demand, I purchased another float airline (a competitor of Pacific Spirit Air) in 1999 to again expand our fleet size. This transaction added another Beaver and a 172 which was used for float training. Also during this time, I quickly learned the intricacies of writing & amending all our Company Operations manuals and other operational documents. This was right at the time the industry was switching over to the CARs and not even Transport was certain what could and couldn't be done so it turned out to be a good learning experience for everyone.
Late in 1999 I received a proposition: would I sell my airline? This was a hard question as I loved the aviation business and had no desire to get out. But the more I thought about it, the more appealing it became. As things were, I was stuck in a 7 day a week job that was revolving around the flying of single engine bugsmashers up and down the coast of BC. I knew too many people that had been 'trapped' in the west coast float business and would retire in a Beaver. That wasn't going to be me. I took the chance to take my leave and pursue other opportunities. The only real downside to selling the airline was the stipulation that the Beavers go with it, and there was no way around that.
I look back at my accomplishment. In 1997 I started with a broken-down airline and one Cessna 185. Two and half years later, the airline had two Beavers, three Cessnas, and revenue 10 times what it was when I started. Quite a feat in such a short time!