THE NAVION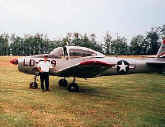 This was my third airplane, the North American Navion. While looking for hangar space for my newly acquired J3 Cub, I responded to an ad on a bulletin board at the local FBO for a shared hangar. After a quick phone call, I decided to meet the current hangar occupant to determine if the Cub would fit next to his aircraft. As he rolled the hangar doors open, I fell in love with the aircraft that was slowly unveiled. He noticed my immediate interest and subtly mentioned, "it's for sale." The rest is history! The only unfortunate part of the story is that the Cub and the Navion couldn't quite squeeze together into the one hangar.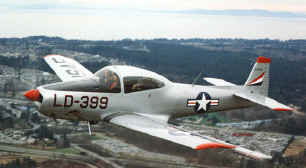 The picture to the right was taken by my brother, Dave, from the J3 Cub while flying over south Surrey/Whiterock, BC. At the same time he took this picture, I was taking his picture (you can see it on the My Cub page.
The Navion is a wonderful plane to fly; nice and solid feeling. Even though it is a retractable and powered by a 225HP Continental engine, it only gets about 140 - 150 MPH cruise. The tradeoff is that it's thick wing provides good STOL performance. The best part about this plane, of course, is that it looks great!
For information on renting/leasing this aircraft, click here.