MY FLYING CAREER, BRIEFLY
(well, maybe not so brief)
Thanks for reading about my growth in aviation. This page will give you a quick history of my flying. Here, you can find out how and why I decided to get into commercial aviation and what I hope to one day get out of it. So, welcome aboard, strap in, and hang on for the ride!
Jan 27, 2003 Update: Yes, I know this section is getting stale. I'm currently working on an update which will have some better information. Please check back here again soon.
---
It all started way back in the last millennium -- January 17, 1993 to be exact. That was the date of logbook entry #1 - my first flight at the controls of an airplane, a Cessna 152 C-GZWX. At the time, I never had any intention of going the commercial route. I just wanted to fly. Flying was, after all, in the genes; my grandfather flew and my father flew so I guess I should fly too. With the completion of some cross country time on October 15, 1993, I was a certificated pilot. Finally! [you can go to my logbook and actually see these entries]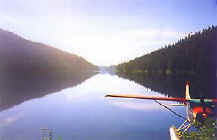 My next big milestone was June 21, 1995. Having decided that renting aircraft from local FBO's and flying clubs was too restrictive, I made the plunge and purchased my first airplane, a Cessna 180 on floats. Living on the west coast of Canada made the floats a definite requirement; with all that water just a few miles from my house, how could I possibly restrict myself to just a handful of airports? The float flying gave me unparalleled freedom in the world of flying and really got me pumped up about aviation.
Just about that time I came to realize that I didn't have any real "stick and rudder" time. I had never flown an aircraft that actually had a "stick." Thus the search began, and after a while, I found the ideal airplane (on the internet, no less!): a Piper J3 cub on floats. I flew out to Ottawa, where it was located on the river, to inspect the aircraft and finalize the deal on what became my second airplane. As it was fall, the weather for a trans-Canada flight was not to be, so I had the aircraft disassembled and trucked to Vancouver. It arrived in January of '97 and was assembled on wheels and ready for flight in March. Man, what a fun plane! Nothing compares to flying on a crisp spring day with the door wide open, the warm breeze streaming through the cockpit, touching town on a freshly cut grass strip. A scarf and leather flying goggles should be mandatory for the full effect.
This now brings me to my third airplane, the North American Navion. While looking for hangar space for my newly acquired J3, I responded to an ad on a bulletin board at the local FBO for a shared hangar. After a quick phone call, I decided to meet the current hangar occupant to determine if the Cub would fit next to his aircraft. As he rolled the hangar doors open, I fell in love with the aircraft that was slowly unveiled. He noticed my immediate interest and subtly mentioned, "it's for sale." The rest is history! The only unfortunate part of the story is that the Cub and the Navion couldn't quite squeeze together into the one hangar.

Up to this point I had been in the computer business selling Macintosh peripherals to the wholesale market. "Driving a desk" was getting stale fast, especially in light of my favorite after-work habit of a spin around the patch (or lake, as it were) and I was looking for a new project to work on. In a queer twist of fate and timing, I received a phone call in early 1997 from the owner of a small floatplane operator in the BC Gulf Islands. "My airline is for sale," he announced. "You seem to like aviation and business so let's make a deal." I had no intention of buying an airline; the idea was far too preposterous. I decided to be polite and humour him so I decided to fly down to Saltspring Island and hear his sales pitch. Besides, it's a good excuse to go flying. Well, 48 hours later I was the proud owner of an airline.
The next three years of my life were handily consumed by this new business of mine. Aviation wasn't like other jobs - it was a 24-hours-a-day occupation. And of course, it didn't stop there. Shortly after buying the airline I got myself into the leasing business. As the market share of my little venture grew, I realized I needed a larger aircraft. I searched for quite some time until I came across a good DHC-2 Beaver. After making purchase arrangements, I set up a small leasing company and leased the Beaver (my fourth plane at the time) back to my airline. Other significant accomplishments during my years as owner were the purchase of a small competitor and their assets: another Beaver and a 172 (for float training). Also during this time, I quickly learned the intricacies of writing & amending all our Company Operations manuals and other operational documents. This was right at the time the industry was switching over to the CARs and not even Transport was certain what could and couldn't be done so it was a good learning experience for everyone.
One day I received a proposition: would I sell my airline? This was a hard question as I loved the aviation business and had no desire to get out. But the more I thought about it, the more appealing it became. As things were, I was stuck in a 7 day a week job that was revolving around the flying of single engine bugsmashers up and down the coast of BC. I knew too many people that had been 'trapped' in the west coast float business and would retire in a Beaver. That wasn't going to be me, so I took the opportunity to take my leave and pursue other opportunities. The only real downside to selling the airline was the stipulation that the Beavers go with it, and there was no way around that. I continued my relationship with the airline at arms length as the lessor of my Cessna 180.
Fresh out of the airline business, job #1 was to get some R&R and recharge my batteries. I took the next several months off (it was winter anyways). Eventually I concluded it was time to pursue some of my other goals in life. After all, that was the reason I quit the airline business. My first desire was to fly in the arctic -- something about the northern landscape, the remote locations, and the cold winters attracted me. I just had to do it. I put a lease & pilot deal together for the summer of 2000 and flew myself, my belongings, and one of my planes up north of the arctic circle. I ended up as chief pilot and did a complete re-write of the company's Operations Manual and company forms.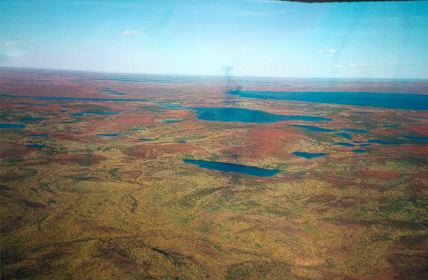 During the slower winter months there wasn't much flying. Instead of sitting around waiting for something to come up, I decided to pursue my other desire: tropical float flying. I contacted Trans Maldivian Air, a float operator in The Maldives, and was offered a position. They use a rotating schedule of 8 weeks on, 4 weeks off, which allowed me to continue flying in the arctic on my 4 weeks off (of course, I had to closely monitor my flight times). So there I was in the spring of 2001, off to the Indian Ocean to fly tourists around in the famous Twin Otter. Fortunately for me, I arrived just in time for monsoon season which made me feel like I was right at home on the BC coast: lots of rain, wind, and clouds.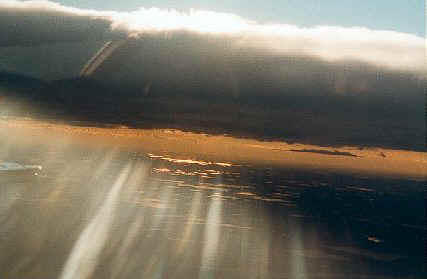 After a season of circumnavigating the globe from the North Pole (well, just about) to the equator, and two seasons of arctic flying, I decided that it was time for something new. So I left The Maldives and the arctic, telling them both that I had enjoyed my stay and might one day come back, for the metropolitan area of Vancouver, where I really and truly call home. I've now decided to pursue my next challenge: commercial IFR flying. Most of my commercial flying to date has been floats, skis, tundra tires, or other bush type work. The small amount of IFR work I did was very enjoyable, so that is where I will be focusing next.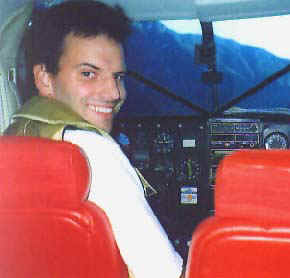 Well, that brings us up to right about today. After the events of September 11th, the demise of Canada 3000 and the resulting lack of upward movement of pilots, I have discovered the entire industry is at much of a hiring slowdown, leaving me still without my IFR job. Things will change, they always do, and I am looking forward to that time. To pass the days I still go out and tinker with my flying toys, once in a while getting brave enough to take to the circling skies.

Wait! Flash news: on August 19th, 2002, I was hired by Bearskin Airlines of Ontario, Canada. There is life in aviation after all. Time for me to prepare for the venerable Beech 99 and the busy Northwest corner of Ontario.
Maybe I'll see you up there sometime...