ChrisHolmes, ATPL
chris@airChris.com
14687 - 111 Avenue
Surrey, BC V3R 2C2
Tel: 604.581.2970
Fax: 604.929.4425

Thank you for taking the time to view my resume. I'm sure you'll see that my skill set is extensive and varied. I have experienced everything from -55C in the arctic to +35C in The Maldives. I have flown rudimentary Piper J3 Cubs right through to DeHavilland Twin Otters. From before my flying days and continuing through to today, I have involved myself in several entrepreneurial ventures, giving me a healthy dose of real-world business experience. This combination of skills makes me truly unique and a valuable addition to any company.
To read more about my flying career, click here.
CHOOSE A SECTION:
Objective
Profile
Flight Times
Types Flown & PPCs
Qualifications
Accomplishments
---
To be employed as a pilot in an IFR environment.
---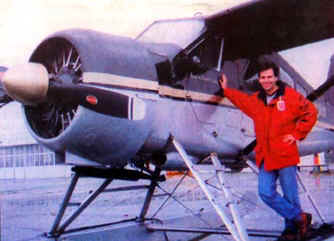 "A passionate aviation entrepreneur." My worldwide flying experience includes The Republic of Maldives, North America, and the high arctic. In addition to piloting, my dedication and commitment in the successful operation of several businesses, including the merger, growth, and eventual sale of Thetis Air and Pacific Spirit Air was recognized with nominations for the prestigious Ernst & Young / Business In Vancouver "Entrepreneur of the Year" award. Additionally, articles in several publications including Globe & Mail's "Report on Business", "YVR Skytalk", BCIT "Update", "The Georgia Straight", and a 30 minute profile on the popular TV show "Wings Over Canada" have highlighted my prior achievements. My passion continues today through my pursuit of flight.
BACK TO TOP JUMP TO "ARTICLES" SECTION
---
5000 hours total flight time
3500 hours PIC
2700 hours multi-engine
2600 hours turbine
2200 hours float time
150 hours taildragger
50 hours skis
Geographical Breakdown
1600 hrs mountainous/coastal BC
300 hours overseas
2200 hours arctic/northern
900 hours central Canada & other areas
Times accurate as of May 1, 2006
Click here to view up to date times in my online logbook.
---
Types OWNED

Beech 100 King Air (PPC current)

Beech 90 King Air (PPC current)

Beech 99 Airliner (PPC current)

DeHavilland DHC-6 Twin Otter

Piper PA-31 Navajo & Chieftain

Piper PA-34 Seneca II

Beech 76 Duchess

DeHavilland DHC-2 Beaver

Cessna 180/185/206/207

North American Navion

Piper J3 Cub
---
Airline Transport Pilot License (Canadian)
(95% average on ATPL exams)

Multi - IFR rating Turbine experience
Seaplane rating Annual IFR refresher course
Taildragger proficient Pilot Decision Making course
Ski plane proficient Dangerous goods certified
Radial engine experience Category 1 medical
---
Training Pilot
Kenn Borek Air
October 2003 - current

Initial & recurrent training of company pilots
Air Ambulance, charter, and scheduled flights
High Arctic / North Atlantic ops
King Air 90, 99, 100

Pilot
Bearskin Airlines
August 2002 - July 2003

Beech 99 Airliner
operated northern schedule service from Sioux Lookout, ON
pavement & short gravel strip ops
commendation for excellence (click here to view)

Pilot
Trans Maldivian Air
April 2001 – Sep 2001

DHC-6 Twin Otter
flew to various island resorts around the Republic of Maldives
open ocean float flying

Chief Pilot / Ops Manager
BeauDel Air Limited
Summer 2000 - Sep 2001
(contract work to Spring 2005)

developed IFR ops manual
developed & implemented training program
streamlined pilot paperwork
arctic bush flying on skis, floats, and wheels
wrote Dangerous Goods manual for new regulations
assisted airline through rebuilding period

Pilot
West Wings Aviation Ltd.
Spring 2000

PA31-310 Navajo
IFR charter flying in mountainous British Columbia

Owner
568968 B.C. Ltd.
Spring 2000 to current

aviation consulting for air taxi operators
provide expertise in development of Ops Manuals and operational management systems
aircraft leasing
aircraft ferrying

Owner & Ops Manager
Pacific Spirit Air
Thetis Air
1997 through end of 1999

purchased failing airline in early 1997
grew to a fleet of 5 aircraft, including 2 Beavers
successful acquisition/merger of Thetis Air
increased revenues ten-fold in only 2 years
sold companies profitably fall '99

Aircraft Owner
Cessna 180
Piper J3 Cub
North American Navion
DHC-2 Beaver (sold)

passion for flying is my life
pursuing aviation as a career

President & Owner
Abbott Integration
Incorporated 1991
Sold 1997

conceived & managed computer hardware integration company
produced sales from zero to $1.3 million in just over 12 months
customers included governments, universities, institutions, regional dealers

Top Graduate
British Columbia Institute of Technology
Venture Program
(Venture Development Centre)
1990 Session

graduated with awards (top of class)
accredited program
excelled in this high-intensity business course
only top candidates are admitted to this highly selective, world-renowned course
invited to regularly return and lecture to current students